Beaches by walking / Public transport
Beaches / Creeks by private transport
Palm grove of San Gabriel
If you are visiting Alicante, this will be of your interest!
What can I do in Alicante?
At the end of our guided city tours, we always help the visitors with their plans during their stay in Alicante. This is a compilation of most of the  questions we are asked by the travellers.
Below you will find information to make the most of your stay, to make your experience in Alicante as authentic and pleasant as possible.
The best way to get to know the city
As we always say, the best way to get to know our city is with a guided tour. We have both: free tours and premium visits (with an already set up price). If you want to know the history, gastronomy or culture of Alicante, we encourage you to book any of them with us. We are not a multinational agency, we are a local company and we only work here. Therefore, we will show you our city, the city we love, running away of the tourist traps.
What am I missing?
During our tours we will tell you the history of Alicante, this is important because although we have a lot of history, there are very few vestiges left. After our tour you will understand much better our lifestyle and character and you will have a more accurate perspective of how the city and its people are.
However, this is not one of those boring historical guided tours, we will deliver the history, culture and gastronomy in a fun way!
But, I don't feel like doing a tour!
What a pity! But, don´t worry! We are going to give you lots of info, so that you can move around on your own and find the places that may interest you the most!  Go to the beach, eat, shop, party or whatever you feel like.
Keep on reading, we are sure you will find some information that you didn't know which can help you to enjoy your stay in The best place in the world: Alicante!
Maps by areas and places of interest: cultural, leisure, gastronomy and much more!
Did you know that Alicante has several party areas that vary depending on the age and the time? Did you know that we have an alternative nightlife neighborhood?
Well, on this map you will see those different areas, restaurants and much more.
Alicante by areas
Alicante has different leisure areas within the city centre. Find the area that suits you the best. We have plenty choose from…
B

El Barrio

The Old Town changes at night. Small pubs with different kind of music where the young party mainly from 00:00 to 3:00.
C

Castaños

Plenty of terraces and restaurants, very busy on Saturday evening and night. All kind of ages from 30 onwards.
R

Ruta de la Madera

Alternative and rock music. Beer, pool, darts and table football. All kind of ages!
S

Shopping area

Not much else to say. International and national shops, including the famous El Corte Inglés.
P

El Puerto (The Port)

When El Barrio closes at 3:00am, people crawls to the port to continue partying. There are plenty of nightclubs with different music.
Where to eat?
These are our favourite restaurants. It is also included below where to try turrón, horchata and other things listed in the "what to eat?" section.
   30 y tantos: Alicantenean cuisine. Delitious and affordable arroz.
   Sento: Specialized on tapas, very well known by the locals.
   Ozú: Andalusian food, great tapas at a very good price.
   Chico Calla! Delicious mediterranean and local food, very authentic. A homage to our cuisine.
   Horchatería Azul Horchatería is the place to find Horchata. From 1942 providing Alicante with one of the best Horchata and Turrón ice cream.
   Luceros 16 Espectáculos de Flamenco. Música en directo.
   Plaza Canalla Mediterranean food. With a  terrace in one of the most beautiful squares in Alicante.
   Espí Traditional turrón shop established in 1890, the best turrón in town!
  La Favorita Bar Market food, original and casual! Try their menú del día (meal of the day).
  Al1cant1na Craft Beer You could see how they produce their craft beer and, across the street, enjoy it in their restaurant. Tapas, live music, and much more!
What to eat?
If you are in Alicante, try our typical gastronomy! You shouldn´t leave Alicante without trying some of the dishes we have listed below!
Pericana
A mixed of salted fish (called "poor fish"), dried tomatoes, a local dried pepper called "ñora" and olive oil. It is typical in all the Alicante province. Perfect to spread on bread!
Turrón
The Alicante turrón is famous all around the world. The traditional are made with almonds, sugar, white egg and honey, however, we have many different kinds! In the Spanish speaker countries is famous on Christmas, but in Alicante, we have it more often! We also make different products with it such as turrón liquor or turrón ice cream ( do not miss it, mainly during the summer).
Arroz / Paella
We are sure you have heard and probably tried paella before. The paella is traditional from Valencia, even if nowadays you can have it all around Spain. In Alicante we have a saying that says: The rice grows in Valencia, but it is cooked in Alicante. Therefore, in Alicante we don´t eat paella, we eat a version of it (tastier of course, hehe) called rice (arroz). Do not miss it!
Embutido de Pinoso
Pinoso is a town in Alicante province. For centuries, their sausages made in the most traditional way have been the most appreciated in the Alicante province.
Olleta
A traditional alicantenean stew made with vegetables, lentils, rice, sausages and meat, just a masterpiece! (Foundable mainly during the winter).
Horchata
Horchata is a drink made with a kind of nut called tigger nut (chufa in Spanish), sugar and water. It can be found in ice cream shops. We love it during the summer!
TRANSPORTATION
The city of Alicante is not large, so it can be explored on foot. It has many things to see and many ways to enjoy leisure, but if you want to move a little further and enjoy other places in the province, you can use the following links. It is worth discovering some towns or beaches that are a little bit further from the city.  Mainly by Tram, we recommend to visit the beach Playa de San Juan and the towns of Altea and Villa Joyosa.  You will not regret!
In Free Walking tours Alicante we are proud to be able to collaborate with the Citizen Participation unit of the National Police, from here we want to convey a message of tranquility, Alicante is a very safe city for tourism and it is thanks to the work of the Police that watches over our safety and our visitors.
For this reason, we recommend that you download the Alertcops application. This application works as an information channel between citizens and law enforcement agencies. It allows the National Police to receive alerts of crimes or risk situations, as a victim or as a witness.
Through this channel you can send alerts with images and videos to the nearest police center, communicate by chat directly and receive security notices sent by public services.
If you want us to keep you informed about our tours, or if you want to stop by to leave a review (please, do so it will help us a lot), here you have our different social media profiles.
WALKING BEACHES/public TRANSPORT (NEAR ALICANTE CITY CENTER)
In Alicante there are more than 100 beaches throughout the province, but if you are in the center of the city or the surroundings, we recommend these very well-known beaches visited by thousands of tourists all year round that, in addition, are very close to the center of Alicante or you can get by public transport.
Postiguet beach (Alicante)
Postiguet beach, located in the center of Alicante, is the best-known beach in the city, every year it is visited by thousands of people both from Alicante and visitors.
Muchavista beach
Muchavista beach is the most familiar and lively in El Campello. Despite this urban aspect, the beach holds a small natural treasure in which you can still see small fishing boats beached on the gravel shore.
Los Baños de la Reina (Campello)
They are artificial pools created in a natural environment. Formerly, they were rafts for fish or fish farms from Roman times.
For those who want to live a unique experience on our coast or want to discover magical and crystal clear corners, we recommend the following beaches or coves. However, these are further away from the city center and to access them you have to go by car or combined urban transport.
ALBIR BEACH (L' ALFÀS DEL PI)
This is the most cinematic beach of all the beaches of Alicante. It is located in the area of El Albir, is a beach of clean waters and awarded with the Blue Flag. From there you can see the rock of Ifach, which marks the beginning of the Natural Park of the Serra Gelada. There is also a very easy and worthy walk to the lighthouse. It is a circle walk thought a mountain while enjoying stunning views of the crystal clear Mediterranean waters.
CALA PORTIXOL (XÀBIA)
Between Cap Prim and Cap Negre, this cove is in the list of the top beaches in Alicante. It is an ideal enclave where you can enjoy nature in its pure state, it is also known as cala Barraca. If you decide to go there, do not forget your diving googles and tube, the sea wildlife is amazing, it makes you feel as the little mermaid diving surrounded by little fishes.
CALA DEL MORAIG (POBLE NOU DE BENITATXELL)
In the succession of cliffs that form Les Morres de Benitatxell, we find the Cala del Moraig, an authentic wonder of turquoise waters, open to abrupt stone cantiles of more than a hundred meters.
CALA GRANADELLA (XÀBIA)
It occupies one of the last almost virgin spaces of the coast, it is protected by rocky cliffs. Kayaking and snorkeling is very famous there since there are many beaches and coves around that are only accessible from the sea. It is absolutely worth a visit since it is year after year listed on the top 5 beaches in Spain!
PALM GROVE SAN GABRIEL
It is a great place to spend the morning or afternoon with children, as it has large areas to walk, run and play, as well as picnic tables, kiosks and cafes. It also has children's areas, a lake, and artificial rivers that can be crossed by its wooden bridges. Also, on Sunday puppet and magic shows are performed for the little ones.
Address: Avenida de Elche, 109- 03008 Alicante (Spain).
How to get there by Bus: Lines 01-27-C6.
Denia
Denia is a Levantine port city, which due to its wide catalog of activities and magical sites to visit, make it one of the most important tourist cities in the province. What to do in Denia?
In this city there are many routes and tours, but we recommend the guided tour that the City of Denia does "DISCOVER THE CASTLE OF DÉNIA".
Dénia stands out for the famous red shrimp of Dénia, making the typical "arròs a banda" or the "suquet de peix", so if you come to this city you have to try these typical and traditional delicacies.
Without a doubt, you have to visit the Cova Tallada, since it is a place located on the cliffs of Cabo de San Antonio, where you will feel a unique experience.
You can get there by car, by the national road N-332, exit to Dénia by CV-725 or by the AP-7 motorway, exit 62.
Elche
It is a city located on the Mediterranean coast, being one of the most populous cities in the province. What to do in Elche?
With our Free Tour in Elche, you can tour the most emblematic streets of the city, and learn about the history, traditions and legends that surround this city of Elche.
Learn about the history of the three World Heritage Sites, the Palm Grove, the Misteri d'Elx and the Educational and Museum Project of Puçol.
The best-known dish of the ilicitana cuisine is the Rice with Crust, although we must also highlight the Rice with Rabbit and Snails and without forgetting the traditional Puchero con Pelotas.
You can get there either by car (the A-7 motorway) or by the commuter train, (2 stops: 1) Elche Parque (Elx-Parc), which is in the heart of the city and 2) Elche Carrús (Elx-Carrús).
Benidorm
Benidorm is the coastal city par excellence of the province of Alicante and most visited annually by millions of tourists, both national and foreign. What to do in Benidorm?
With our Free Tour in Benidorm, you can discover why Benidorm is considered the city of skyscrapers. In addition, to know that historical side, of fishing roots and enigmatic that keeps the city of Benidorm.
You can visit several amusement parks, water, and zoos, such as Aqualandia, Terra Mítica, Mundomar, etc.
The gastronomy par excellence of Benidorm is related to the sea, since it is traditionally a city of fishermen, so its star dishes are the arroz a banda, fish casserole to the poor, the pebrot, the coca farcida or the cakes of San Blas.
To get to Benidorm you can go by car or take line 1 of the TRAM d'Alacant.
Orihuela
It is the city with more history and religious tradition of the city of Alicante. In addition, in this city has been born poets of great renown such as Miguel Hernández. What to do in Orihuela?
With our Free Tour of Orihuela, you can soak up the traditional culture of this city, as well as the great stories and legends that are related to Orihuela, and know where Miguel Hernández lived.
Visit to the different parishes of the city such as the Diocesan School Santo Domingo, the Cathedral of the Savior and Santa María, Church of Santiago Apóstol, Monastery of San Sebastián, Church of Nuestra Señora del Carmen, etc.
The typical Oriolan dishes are related to the garden such as the cooked with balls, the turkey stew, the paella huertana, the stewed beans and the most typical dish of the area: the rice and crust.
How to get to Orihuela is very easy and is that you can go either on the suburban train from Alicante or by car.
Torrevieja
Torrevieja is one of the cities that collects more tourists in the summer season every year, in addition to having numerous awards declared natural interests of Europe. What to do in Torrevieja?
In this city there are many routes and tours, but we recommend the guided tour that the City Council celebrates towards the "Salinas de Torrevieja."
If you go to Torrevieja you have to visit the Natural Park of the Lagoons of La Mata and Torrevieja, which are a beautiful natural place.
The typical dish of Torrevieja par excellence is the "Cauldron", since it is nourished by its fishing gastronomy.
The easiest way to go to Torrevieja is by car (with its own exit from the AP-7 motorway or Autopista del Mediterráneo (E-15 on the European car route) and road access to the coast is via the N-332).
Guadalest
It is a beautiful town with Muslim roots that forms a valley between the Sierra de Xortà and Serrella, and why not, also on the Costa Blanca, but what can you do in Guadalest?
In our Free Tour of Guadalest, we tour the historical-cultural past, as well as tour its extensive natural heritage that keeps this walled town.
If you go to Guadalest, you have to visit its numerous museums such as Antonio Marco Museum / Bethlehem Museum and Doll Houses, the Museum of Miniatures, the Historical-Medieval Museum, Microgiant Museum, etc.
The typical dishes of Guadalest are "L'olleta de blat" and "el Conejo con All i oli", other typical elaborations with ingredients from the garden such as baked vegetables.
To get to Guadalest the easiest way is by car.
Altea
With our Free Tour of Villajoyosa, you will be able to know the history of this picturesque town, as well as tour its old town visiting the famous Casas de Colores and take incredible photos.
The most emblematic of the Vila, would be the chocolate, since here is the chocolate shop Valor and therefore, thousands of stories and museums linked to this exotic delicacy.
In Villajoyosa, a lot of rice is eaten, so we could highlight as typical and traditional dishes the arrós amb llampuga (rice with lampuga), arrós amb ceba (rice with onion) and arrós amb espinacs (rice with spinach).
To get to Villajoyosa, you can go by car or train, taking tram line 1 from Alicante to Benidorm.
Villajoyosa
La Vila Joiosa es historia, naturaleza y mar, por lo que se puede disfrutar de piezas egipcias traídas por los fenicios. Una historia que siempre ha estado marcada por el mar. ¿Qué ver en Villajoyosa?
Con nuestro Free Tour de Villajoyosa, podrás conocer la historia de este pueblo pintoresco, así como, recorrer su casco antiguo visitando las famosas Casas de Colores y hacer fotos increíbles.
Lo más emblemático de la Vila, sería el chocolate, ya que aquí se encuentra la chocolatería Valor y por ello, miles de historias y museos ligados a este manjar exótico.
En Villajoyosa, se come mucho arroz, por lo que podríamos destacar como platos típicos y tradicionales el arrós amb llampuga (arroz con lampuga), arrós amb ceba (arroz con cebolla) y arrós amb espinacs (arroz con espinacas).
Para llegar a Villajoyosa, se puede ir en coche o en tren, cogiendo la línea 1 de TRAM desde Alicante hacia Benidorm.
Novelda
Novelda is a municipality located in the province of Alicante, Spain, which is included in the European Modernist Route. What to do in Novelda?
With our Novelda Free Tour, we will guide you through this enigmatic town, where you can learn all kinds of stories and discover why it is included in that Modernist Route.
You have to visit the Heretat de Sicilia winery of Novelda, because you will find a unique and exquisite delicacy that is the Fodillón, the wine par excellence of the province.
The noveldense gastronomy is full of typical huertanos dishes such as Gazpacho (broth with chopped cake and rabbit), les Fasegures (stuffed with spicy minced meat), Gachamiga (flour cake mixed with water, oil and garlic) or Rice with rabbit and snails.
To get to Novelda, the best way is to go by car.
Tabarca
Tabarca is the smallest inhabited island in the Mediterranean, the first nature reserve of Spain, the island of a thousand names, home to pirates and fishermen. What to do in Tabarca?
The route that we recommend the most is the guided tour of the old town of the island, as well as its surroundings touring its walls.
The most emblematic of the island of Tabarca would be its coast, since, with crystal clear and turquoise waters, where you can enjoy a magnificent day sunbathing or doing water activities such as diving.
The island's gastronomy is related to the sea, so its star and most typical dish would be the Cauldron and rice dishes.
To go to Tabarca, the only way is by boat, we recommend you go from the port of Alicante with Kontiki, which is the only company that makes the route Alicante-Tabarca, there are other departures from Santa Pola or Torrevieja.
SOUVENIRS MADE IN ALICANTE
Turrones Espí
Alicante is the homeland of Nougat or as we call it Turrón. Actually during our morning free tour we visit this shop to enjoy a free sample of turron. Since it is a traditional shop (establish in 1890) and nowadays we have the 5th generation of the same family running it. It is located at Calle Tomás López Torregrosa, 17. Traditionally it was characterized by being a shop of handmade nougat, but nowadays they also sell Alicante wine and liqueurs and gourmet products. If you are lost there and you do not know what to try, we recommend you the following nougats: Turrón de Alicante, Turrón de Jijona and Turrón a la Piedra, and turron liqueur, absolutely delicious (and dangerous, hehe) .
Calma mi alma
It is a small shop located in the calle Mayor, 31, (Old town). Their expertise is handicraft and ceramic products, you can also buy souvenirs, handmade and author ceramics. Alicante is very famous for ceramics and pottery, so a very typical souvenir would be a blue and white (Alicante colors) piece of pottery, like a mug or a plate. You won´t find here the plastic flamenco dancer made in China but original and quality souvenirs made in Alicante.
Herborista Cerámica Pascual
It is located at AVda. Alfonso X El Sabio 15. It is one of the oldest shops in the city, with a history of 122 years. In it you can buy jars, dishes, pitchers, decorated and uncoated bottles, pots, vases, etc. In addition to specializing in ceramics, it also sells natural products and spices from all kinds of plants. It is just worth a visit for a quick smelled of the shop. It may sound crazy, but their spices can be smell from the outside of the shop.
MARKETS, FLEA MARKETS AND CRAFT STALLS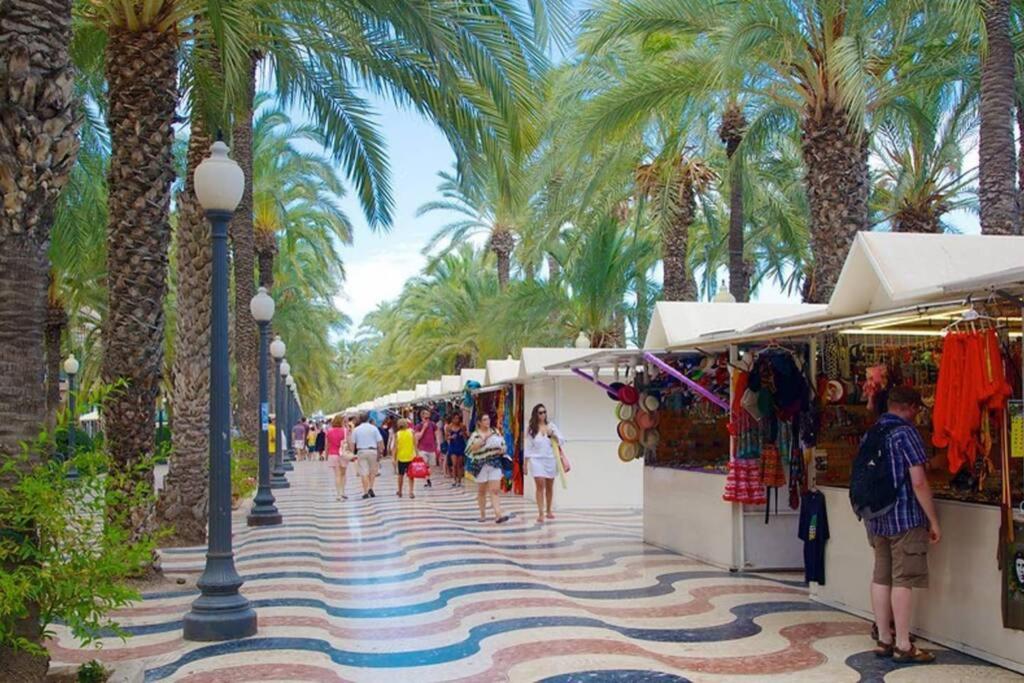 CRAFT MARKET ON THE ESPLANADE
The stalls are is located along the esplanade (La Explanada de España)  of Alicante. In these stalls you can find jewelry and handmade clothing, plates, paintings, leather goods, brass, glass, wood, ceramics, shells and so on.  The stalls are opened every day from midday to 20:30h, until 22:30h during the summer.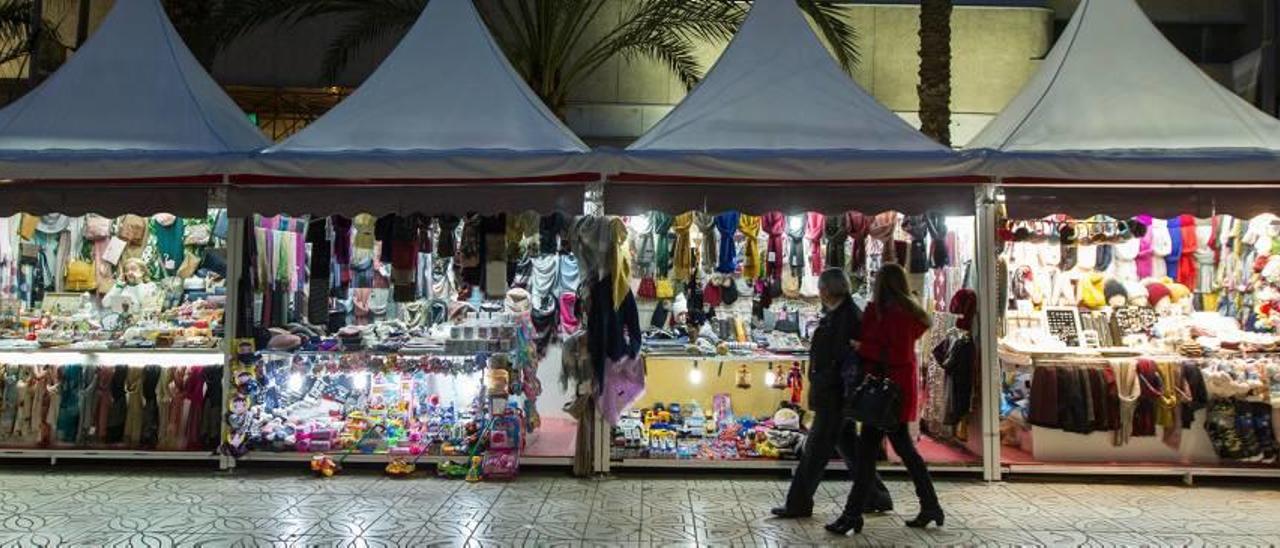 CHRISTMAS MARKET
This market is located on Federico Soto Avenue next to Luceros square, this market opens exclusively at Christmas and in certain festivities of the year, such as The Day of Sant Jordi or Day of the Book, Fogueres de Sant Joan or Christmas Eve.
100% ARTISAN MARKET OF ALICANTE AND FLEA MARKET
It is located in the plaza de la Santísima Faz, behind the city hall, it is the best opportunity you have to admire handmade craftsmanship in the streets of Alicante and buy it directly from its creators. It takes place on Sundays from 10:00h to 14:00h.
Also, on the same schedule, in the City Hall square, you can find the flea market. There are stalls with coins, stamps and old and rare gadgets of all kinds.